Craig's Bio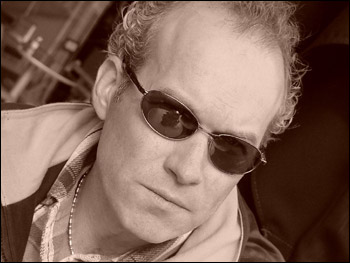 Craig Newman's musical studies commenced at the age of 12 when he began playing trumpet with his secondary school big band. However, by the time he reached 16 years old, he had developed a considerable interest for the bass guitar. This resulted in three years classical double bass studies with renowned teacher, Marijan Bryshna and further tuition with Bob Arrowsmith, Jeremy Alsop and Graham Lyall. Craig graduated from the Victorian College of the Arts in 1988 with a diploma in jazz studies.
Since then, his talent and dedication have taken him in many different directions. Apart from live performances and international touring, he can be heard on compact disc, television, commercials and in theatre. In 1991, Craig toured the UK, Japan and Australia with Kylie Minogue. In 1994 the Roland Corporation invited him to tour Bangkok and Vietnam as a Roland clinician, which has resulted in a continuing association with further clinics in 1995 and 1996 to Indonesia, Thailand and the Philippines. In 1995 Craig toured the UK and Australia again, this time with the Seekers.
Australian bands in the sphere of live performance have included Graham Lyall's show band, WJAZ, Venice Beach and Wilbur Wilde's Blow Out and artists including Peter Cupples, Mick Pealing, Steven Cummings, Danielle Gaha, Yo Yo, Tommy Emmanuel, Patrick Mcmahon, Marie Wilson, Donna Fisk, Renee Geyer, Colleen Hewitt, Chris Wilson, Bachelor Girl, Adoration, Billy Thorpe David Atkins "Dancing Man", "Sweet Charity the musical" and this year "Mamma Mia".
Craig was the resident bass player for "Hey Hey It's Saturday" giving him the opportunity to back many Internationals including Tom Jones, Jackson Browne, Thelma Houston, Barry Manilow, Martin Taylor, Roger Daltry, Ernie Watts, Trisha Yearwood, Joe Cocker, James Morrison, Keb Mo, Errol Brown, Venetta Fields and Eric Burdon. He can also be seen frequently on "Good Morning Australia" and in the past has appeared in the "New Faces" resident band, ABC's "Jazz is Now" and the 1999, 2000, 2001 and 2002 Logies and The Main Event featuring Olivia Newton John, John Farnham and Anthony Warlow.
Craig also performs with the Melbourne Symphony Orchestra and in June this year was invited to play electric bass for the world premier of new works by German composer, Koncheli, conducted by Marcus Stenz. Craig also plays with the Victorian State Orchestra and this year participated in two musicals - "Bye Bye Birdie" and "They're Playing Our Song".
Recording projects include Venice Beach's "Chainsaw Fantasy", Penny Dyer's "Open your eyes you can fly" and "Adieu Miro", fusion bands "Logic" and the "Simon Patterson Trio", and the Myer Christmas albums of 1999, 2000, 2001, 2002 and 2003.
Craig is an endorsee for both SWR and Warwick basses, bass amplification and D'Addario strings.
He also offers private bass tuition as well as an ongoing teaching association with Billy Hydes Drum Clinic, Victorian College of the Arts, Boxhill and Collingwood TAFE Colleges.
Recent tours include Jerry Lewis, Petula Clark and the British Rock Symphony featuring Eric Burdon, Thelma Houston and Glen Shorrock.
Craig is currently permanent bass player with John Farnham having just completed The Last Time tour Nov 2002 - July 2003.